I was in a genuine fix as to what can I write about one of my favourite singer about whom so much has been already written? If I switch on any FM radio station today, I am sure to hear one of Kishore's evergreen melodies especially composed by another stalwart, RD Burman.
Listen to any RJ of any music station and you will be surprised how just everyone ends up calling the genius singer, किशोरदा, as if he was their contemporary. It makes me wonder how a singer who began his career way back in 1946 (he was a chorus singer with Bombay Talkies) continues to be listeners' favourite even today. More so, when the youth has access to all music from across the world, thanks to the internet.
As Kishore had no formal classical training, he was never entertained by the top music composers of those days. But Kishore went on to be one of the most prolific singers in Indian popular music industry, singing songs in Bengali, Marathi, Assamese, Gujarati, Kannada, Bhojpuri, Malayalam, Odia, Urdu apart from Hindi, of course. That was due to power in his voice, its "contemporariness" and the sheer joy and energy it echoed with, worked wonders. This led to Kishore being nominated 19 times for Filmfare and won 8 of them!
He was, in effect, the voice of the young-at-heart. There was always so much fun in his singing. It was cool, if I may use today's language.
Yodelling is singing in a manner that the voice fluctuates rapidly between a normal and an exaggerated tone. He yodelled for a number of songs notably like 'Zindagi Ek Safar' from the film Andaz, 'Chala Jata Hoon Kisi Ki Dhun Mein' from the film Mere Jeevan Saathi and many many more as it become the essential feature of his singing. Kishore was the only singer who could do this quite effortlessly and he never tried to hide that he was inspired by Jimmie Rodgers and Tex Morton.
Much of Kishore's genius comes from his unpredictable personality as an actor-singer which was in a way crazy mad.
Watch him fooling around Chalti Ka Naam Gaadi – sometimes flirting, sometimes bumbling along. This man could jump, dart and leap around a gay abandon.
He could be plain mad if he chose to be… watch him sing a duet (he sang both the male and female version!) and play a woman in Aake Seedhi Lagi starring actor Pran and him in the film Half Ticket. Even the song Chil chil chilla ke from the same Half Ticket is replete with total madness. You can not imagine someone else in that frame.
Similarly can you even imagine anyone else pulling off the music teacher act in Padosan other than Kishore?
There are many stories of his madness and eccentricities but which I am not going to dwell on.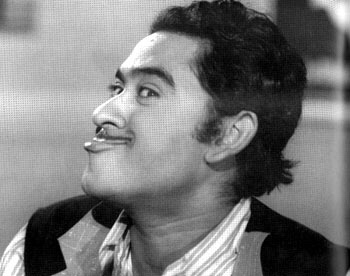 His music reached its zenith in the 1970s when the formidable quartet of RD Burman, Anand Bakshi, Rajesh Khanna and Kishore Kumar could do no wrong.
From the 1970s and throughout 1980s, Kumar sang for Rajesh Khanna, Amitabh Bachchan, Dharmendra, Jeetendra, Sanjeev Kumar, Dev Anand, Mithun Chakraborty, Vinod Khanna, Dilip Kumar, Aditya Pancholi, Naseeruddin Shah, Sanjay Dutt, Sunny Deol, Anil Kapoor, Rakesh Roshan, Pran, Sachin, Vinod Mehra, Amol Palekar, Rajinikanth, Chunky Pandey, Kumar Gaurav, Sanjay Khan, Feroz Khan, Kunal Goswami, Govinda, Jackie Shroff and many others like Anil Dhawan, Vijay Arora et el whom I have lost track. It would be worthwhile mentioning that he sang for nearly all members of Kapoor khanadan; Raj & Shammi (may be just a song or two), Shashi, Randhir, Rishi, Rajeev. If he had lived longer, may be he would have sang for Ranbir also.
Kishore Kumar sang the most songs in his career for Rajesh Khanna. Kumar sang 245 songs picturised on Rajesh Khanna across 92 films, which is an unbeaten record for singer-actor combination. Kishore sang 245 songs for Rajesh Khanna, 202 for Jeetendra, 131 for Amitabh and 119 for Dev Anand.
Kishore Kumar (4 August 1929 – 13 October 1987) sang in different genres but some of his rare compositions which were considered classics were lost in time. Perhaps, the burden of being a playback singer, actor, lyricist, composer, producer, director, and screenwriter took a heavy toll on him.
A man who stood up for his beliefs, even if it affected his career. His denial to endorse then Prime Minister Indira Gandhi's 20-point programme led to his ban on Vividh Bharti and All India Radio during the Emergency period of 1975-1977, during peak of his career.
According to Ashok Kumar, Kishore's success lies in the fact that his voice used to hit the microphone straight at its most sensitive point.
Following 25 solo songs of Kishore are my personal favourites (in alphabetical order):
01. Aa chal ke tujhe, 02. Bhanware ki gunjan, 03. Chala jata hun, 04. Chho kar mere man ko, 05. Chingari koi bhadake, 06. Ek ladki bhigi bhagi si, 07. Geet gata hun mai, 08. Hamen tumse pyar kitna, 09. Hawan o pe likh do, 10. Jeevan se bhari, 11. Kehna hai, 12. Koi hota jisako apna, 13. Koi humdam na raha, 14. Mere mehboob kayamat hogi, 15. Mere naina sawan bhadon, 16. Neele neele ambar par, 17. O mere dil ke chain, 18. Pal pal dil ke paas, 19. Rimzim gire sawan, 20. Roop tera mastana, 21. Sama hai suhana, 22. Woh sham kuchh ajib thi, 23. Zindagi ek safar, 24. Zindagi ka safar, 25. Yeh jeevan hai
किशोरदा, you will live forever in our memory & hearts!!
Yeshwant Marathe
#celebrities #KishoreKumar #kishore #PlaybackSinger