Two years ago, Google honoured yesteryear Hindi film actress Nutan with a Google Doodle on 4 June, which would have been her 81st birthday.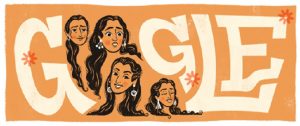 It was hard to sum up her genius in a single portrait, and so we depicted four distinct expressions," Google said in a statement.
The image reflects her expressions as a conflicted murderess from Bandini, the anguished untouchable from Sujata, the hell-raising orphan from Seema — all memorable characters played by Nutan, who was known for communicating complex emotions using only facial expressions and body language rather than dialogue, the statement read.
Her faces fill up for the "oo" in Google
Nutan was the eldest daughter of Kumarsen and Shobana Samarth. Educated in Europe, she imbibed the influences of both Indian and Western cultures. Apart from a graceful figure, Nutan was gifted with one of the most camera-friendly faces in the industry. According to late Subrata Mitra, a cinematographer acclaimed for his work in Satyajit Ray's Apu trilogy, Nutan appeared photogenic from every angle.
After the trinity of Bollywood's unique divas of the 1950s, Nargis, Madhubala and Meena Kumari, the actress who enacted the most memorable roles of different genres with unmistakable conviction was Nutan. She did several women-centric films which revolved entirely around her character, and that was when the male actors dominated the silver screen, with her distinct, groundbreaking style. She raised them to the status of all-time classics on the strength of her sublime acting. Nutan immersed herself in the character so well that each movement, gesture, glance and word uttered by her remains etched in the mind, long after the audience leave the cinemas. Her eyes conveyed more than a thousand words.
Her performance in Bandini ranks as among the five best ever in the Hindi cinema (alongside Meena Kumari's Saahib Bibi Aur Ghulam, Nargis's Mother India, Waheeda's Guide and Shabana's Arth).
Just three of her films—Seema (1955), Sujata (1959) and Bandini (1963)—will ensure her a place among the best actresses of India. Besides compelling melodrama, depths of emotions dripping with pathos, melancholy and overwhelming sense of loss, these films narrated believable stories, which offer an insight into the multilayered characters that touch our hearts, as well as flag serious social issues of their time.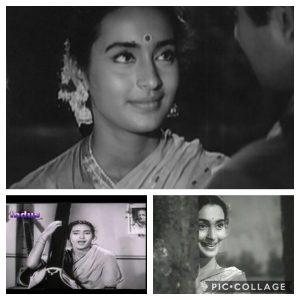 In the song "Ab Ke Baras Bhejo" sung in deep, evocative voice by Asha Bhosle, Nutan's face looks like a kaleidoscope expressing so many tumultuous emotions. At times, her eerie silence is more expressive than words.
There was a serene cool–headedness to Nutan's personality which placed her miles ahead of the other screen queens who made a crying virtue of over-emotionalism. While Meena Kumari seemed steeped in the ethos of tragedy, Nargis always projected an impulsive facial expression, Geeta Bali had an eternal orphaned look and Madhubala was the divine beauty. None of these celluloid heavyweights could be imagined in the midst of true realism or pragmatism. They lived life on the steep side of romantic illusion.
As is typical of most celluloid greats, Nutan was at her emotive best when given, the least spoken lines. Who can forget the wordless sequence in Bandini when Kalyani mixes poison in her tormentor's tea? Or the sequence in Sujata where the Harijan girl seeks inadequate shelter during pouring rain under Gandhiji's statue? Or the long singular song sequence when Sunil Dutt sings, 'Jalte hain jiske liye' to Nutan over the phone? As tears fall silently over the receiver, you can hear the sound of the breaking heart over the line.
Though popular as the 'Queen of emotions,' she was equally effective in breezy musicals and comedies such as 'Dilli ka thug,' 'Dil hi to hai' and 'Tere ghar ke samne.'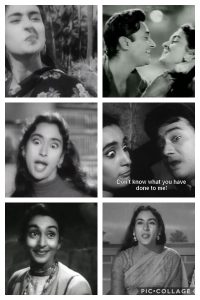 There was only one heroine, opined a leading filmmaker, who looked equally attractive in a ghagra-choli and a bathing suit – Sharmila Tagore. Boldly breaking free from the image of a saree confined devi in her heyday, Nutan too tried both successfully. This is where Nutan scored among the splendid sextet of all- time great actresses from the '50s. Whenever it occurred, the audience was not the least offended by Nutan's 'devi'ations. She inspired a subtle, undefinable confidence among viewers. They trusted her to do her best in the worst of circumstances. Nothing she did up on the screen could be considered aesthetically wrong. She has been a real icon of Indian cinema for over four decades.
She won five Filmfare Awards for Best Actress and this record was held by her for nearly 30 years until her niece, Kajol matched it in 2011. She also won one more award for Supporting Actress for her role in Meri Jung.
Further referring to her lovable screen presence, Lata Mangeshkar, who was the actress' constant playback singer, had singled out Nutan as the only actress who looked fully convincing in providing lip synch to the songs.
The other notable films in her career have been Paying Guest, Anari, Chhalia, Sone Ki Chidiya, Milan, Saraswati Chandra, Saudagar, Main Tulsi Tere Angan Ki and Naam.
Hindi cinema lovers still cannot forget that beautiful smile and expressive eyes that lit up the screen. May be even the Almighty had been smitten by her smile and she made an early exit at an age of only 54.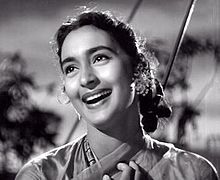 Nutan remains my all time favourite actress of Hindi Film Industry.
Yeshwant Marathe
#bollywood #actress #nutan #bandini #sujata