If I think of male playback singers in the Hindi film industry, the older generation might talk highly of Pankaj Mullick, Kundanlal Saigal or G M Durani. But I always felt that my generation has been very fortunate that we were born in the times when legends like Talat Mehmood, Mukesh, Hemant Kumar, Manna Day, Kishore Kumar and Mohd Rafi were in their peak form.
However, I feel sad that the current generation has not appreciated the lyrics, melody of the music and the quality of singers of our times. As the Hindi saying goes – तभी मन डोलता था, आज तन डोलता है. Lata Mangeshkar had also commented once that in those times, musicians used to play to give a breather to the singer; today, the singer sings to provide a breather to the musicians.
Even from these, I always felt that Talat, Mukesh, Manna Day & Hemant Kumar had their limitations. If I have to think of the best male playback singers this country has seen, the search stops at Mohd Rafi and Kishore Kumar. This article aims not to compare these outstanding singers as I am incapable of even attempting that. 
The moment I hear the word Rafi, the first thought that comes to mind is God's Own Voice. Simply unbelievable talent; a true Gandharv. I always feel that Rafi's expression comes from the soul and not the throat compared to any other recorded voice.
If there are multiple ways of saying 'I love you' in a song, Rafi knew them all. The awkwardness of puppy love, the playful recreation of teen romance, the philosophy of one-sided love and the anguish of heartbreak – he could explore every passion with the same intensity.
It wasn't just love; his voice could capture the navras of life – a failed poet's sorrow, a fiery unionist's enthusiasm, a debt-ridden farmer's despair, really anybody at all.
Simply put, Rafi was the most versatile male singer Bollywood has seen. Romantic numbers, tearful melodies, ghazals, bhajans (the best bhajan ever recorded – Man tarpat hari darshan ko aaj – was naturally by Rafi), qawwalis, folk, classical – he could sing all genres, all octaves effortlessly. A small example of his capability was coming up with the opening lines of "Dil Ke Jharonke Mein" in a single breath, as desired by Shammi Kapoor.
Rafi, whose career spanned nearly four decades, was a singer for every season and every reason. Absolutely nothing that Rafi could not sing. A teetotaler, Rafi sounded the perfect drunk in "Mujhe duniya walon sharabi na samjho" (film: Leader, 1964).
Just listen to "Din dhal jaaye", an S D Burman composition from Guide and see how he infuses the mood of Dev Anand's character into the song. That's what was so special about him.
He had this extraordinary ability to match a star's style and translate it into a song. Shammi Kapoor had once said in his interview: "Once I went abroad, and Rafi Saab had recorded one in my absence. I came back and heard it; I was astounded. He had captured my ada, my andaaz, my energy. I asked him how he did it. Rafi Saab said smilingly: 'I imagined this is how Shammi would jump or roll or lift his hand or shake a leg or head and sang accordingly.' And that was exactly how I enacted that song. It was uncanny." But that was Rafi.
The glory of singing in a maximum number of languages by an Indian playback singer goes to Mohammed Rafi. With his charming voice, he has sung in 14 Indian languages and six foreign languages. He has sung only 162 songs in other languages, and all the remaining songs were in Hindi.
I have often rued that Rafi was never honoured with anything more significant than a Padmashri. Still, maybe Rafi needed no bigger reward than to be remembered as a perfect human being who helped young singers and music directors, never lobbied for awards and never chased money, rather than just as a great singer.
Mahendra Kapoor once recalled how Rafi taught him the importance of humility by pointing at the night sky and saying, "When God doesn't take credit for creating all this, who are we to say, "I did this?".
Rafi always had a great smile on his face, and that, in a way, reflected how happy and contented he was. There is a funny anecdote: HMV had decided to release a collection of Mohammed Rafi's sad songs. For this purpose, they required a photo of Rafi with a gloomy face, and they searched their whole library but could not find a picture of Rafi in a sad mood. Finally, they had to give up the idea, and the collection was released with a smiling Rafi on the cover of the album.
Many singers created a career recreating Rafi's voice and style: Anwar, Shabbir Kumar, Mohd Aziz, Jaspal Singh & of course, Sonu Nigam.
Though the Kishore Kumar tsunami struck Bollywood with Aradhana in 1969 and sent Rafi into near-wilderness for seven years, his comeback with Laila Majnu (1976) and Hum Kissi Se Kum Nahin (1977) was equally stunning.
Even though there was a healthy competition between Rafi & Kishore, which was always a point of discussion among music critics, Rafi and Kishore remained good friends.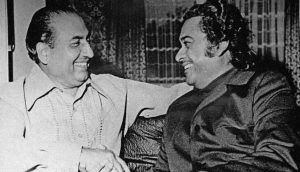 Rafi left for his heavenly abode on 31st July 1980 when he was only 55 years old. It was heart-wrenching to see Kishore Kumar sitting next to the mortal remains of Mohd Rafi, sobbing for hours together.
We can not imagine what Rafi would have achieved in his life, but his untimely death robbed us of the gems he would have come up with later. But sometimes, I feel that he would have become very unhappy with the evolution of Hindi Film Music which is now more beat-oriented than based on melody. The true lovers of Film Music will never be able to forget Rafi ever in their lifetimes. In fact Rafi himself has said in one of his songs – तुम मुझे यूं भुला न पाओगे, जब कभी भी सुनोगे गीत मेरे.
The following 25 solo songs are my personal favourites of Rafi: (in alphabetical order)
01. Chhu lene do najuk, 02. Choudhavi ka chand ho, 03. Dekhi jamane ki yaari, 04. Dil ka bhanwar kare, 05. Dil ke jharokhe me, 06. Din dhal jaye, 07. Duniya na bhaye, 08. Ehsan tera hoga, 09. Hum bekhudi me tumko, 10. Kabhi khud pe kabhi, 11. Khoya khoya chand, 12. Madhuban me radhika, 13. Main zindagi ka saath, 14. Man re tu kahe na, 15. Man tarpat hari darshan, 16. Naache man mora, 17. O duniya ke rakhawale, 18. Pukarata chala hun mai, 19. Rang aur noor ki baraat, 20. Suhani raat dhal chuki, 21. Teri aankhon ke siva, 22. Tum mujhe yun bhula, 23. Yahoo, chahe koi mujhe, 24. Ye duniya agar mil bhi, 25. Zindagi bhar nahi bhulegi
Take a bow! Rafi Saab!
@ Yeshwant Marathe
yeshwant.marathe@gmail.com