My heart goes out to the women of India.
The rapists are free. They have been garlanded, welcomed, and felicitated. Who knows tomorrow they may get a ticket to contest elections and may also win and become lawmakers. This is not impossible to believe in our country. If that happens, I will have to bow my head in shame. Honestly, I feel lost, bewildered and powerless. I have never understood politics but what I do understand is that if you make heroes of rapists no woman will feel safe. This issue is way above partisan politics, it is about the safety of our mothers, sisters, and daughters.
But then I read the following comment somewhere and didn't know how should I react.
The release of convicts in the Bilkis Bano Rape and murder case is nothing new. All prisoners undergoing Life terms are eligible for release after 14 years of good behaviour. It's done every year (15th Aug, 2nd Oct, 26th Jan). This year on the occasion of 75th Independence Day, some prisoners were given such a concession. Just because it is a sensitive case, an issue is being made of this release.
Is that so simple? I beg to differ.
First, let's refresh our memory about the actual incident.
In 2008, Shah and 11 other men from Randhikpur in Gujarat's Dahod district were sentenced to life imprisonment for raping a young pregnant woman from their village, Bilkis Yakub Rasul Patel, more commonly known as Bilkis Bano, and for murdering 14 of her relatives during the 2002 communal violence in Gujarat. Those killed included a day-old infant and Bano's three-year-old daughter.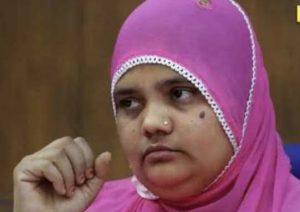 The guilty verdict, pronounced by a special Central Bureau of Investigation (CBI) court in Mumbai on the charges of gang rape and murder of 14 Bilkis Bano's family members, had later been upheld by the Bombay High Court. The Bombay High Court remarked that there was "clinching evidence" to show Radheshyam Shah and the others had committed the crimes they had been accused of.
The irony of the whole matter was that, in his Independence Day address to the nation. the Prime Minister had asked the country not to do anything that belittled the dignity of women. "He said something about supporting 'Nari Shakti'. However, the Gujarat BJP government released criminals convicted of gang rape on the same day. Did they want to send the message that BJP gives only lip service to women's empowerment and respect for women? In my opinion, the release of 11 life convicts in the horrifying Bilkis Bano gangrape and mass murder case will cause a huge embarrassment to the BJP, especially after Prime Minister Narendra Modi's exhorting the nation to "protect women's dignity in all circumstances".
Agreed that such concession is given every year but the decision is taken by the Central Government. In this case, the decision was taken by the Gujarat State Government committee.
When on August 15, Shah and the others stepped out of Godhra prison to be greeted by their relatives and neighbours with garlands, tilaks and sweets. The convicts were showered with a grand welcome by their relatives and the Vishwa Hindu Parishad (VHP), following their release. Their next stop was the auditorium of the Deen Dayal Upadhyay Trust, named after the first president of the Bharatiya Jana Sangh, the precursor to India's ruling Bharatiya Janata Party, which is also in government in Gujarat. According to the trust employees, the event had been organised by Arvind Sisodia, who is seen in pictures garlanding Shah and the others.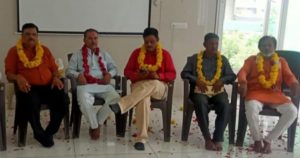 Sisodia identified himself as a member of the Rashtriya Swayamsevak Sangh, the BJP's ideological parent, but denied having organised the event. "I only went there after I received a message that they had been released," he said.
The rapists were welcomed in Godhra with garlands. The people who celebrated their return believed that the rapists are innocent and falsely implicated. The rapists too feel the same. Some said that they don't even know who Bilkis Bano is.
Hindus in India are shocked by this behaviour. Muslims are angry too. But as usual, Muslims are waiting for Hindus to react and hold protests for them. They don't want to stand up and fight for Bilkis, as a community. They will do 6-month dharna to protect the right of entry of Muslims from outside India, but not for an Indian Muslim lady. The Mullahs and Maulanas are sitting with fingers on their lips. This is a shame too.
I am a Hindu. And I am standing up for Bilkis Bano, knowing fully well that a few months back the entire Muslim community decided to back angry Muslim nations against India and rogue Muslim radicals for the beheading of Hindus. It was because Nupur Sharma insulted their Prophet, and things got out of hand. Illegal activities like Sar Tan Se Juda chants, stone throwing and gun-toting Muslims were okay then. There were no protests and no signature campaigns when Muslims had been wronged. Hindus had to fend for themselves.
As a Hindu who is angry about Godhra, I could also claim that what happened to Bilkis was a reaction, exactly how Muslims justified the beheadings as an angry reaction through their silence. But I won't.
Raping a pregnant woman, for settling religious scores is an inhuman and reprehensible act. These rapists will rot in hell, even if the government keeps them out of jail.
Look at how the self-proclaimed atheist Javed Akhtar has suddenly found his voice when a Muslim has been wronged. He had probably put a secular cello tape on his lips during the Nupur Sharma beheadings. Mohammed Zubair has got into action on Twitter after being dormant about Hadi Matar attacking Salman Rushdie. No Muslim is asking them for answers. Because it is convenient.
Is this the time to discuss the Hindu-Muslim hypocrisy? This is the time to remind both communities how selective silence for communal gains disrupts the social fabric of India. This is the right time.
@ Yeshwant Marathe
yeshwant.marathe@gmail.com
Inputs are taken from articles of Ninad Vengurlekar and Ujwal Thakar.