What would you do if you want to find some information about a particular person? You would type that name in Google and invariably something pops up giving the relevant information. Google is our lifeline of information. 
However when a friend happen to ask some questions to me:- Who was Appasaheb Marathe? I know he is your grandfather but what was his contribution to the locality? Was he a politician? If not, then why a main arterial road, en route to South Mumbai is named after him? I didn't knew how to answer those questions in few sentences. 
Then I realised that such questions must be grappling the minds of a person staying in one of the luxurious towers on that road. This is because in India, the general perception is that roads are named after some politicians or influential people. It is extremely rare that such honour is bestowed purely on merits. 
Unfortunately there is no specific and authentic information available of Appasaheb on Google. I had penned a blog post on him about 3 years back but that was in Marathi and was mainly circulated within family and known circles.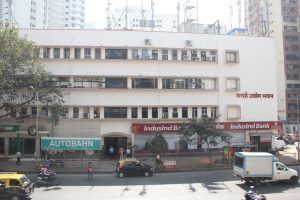 Since there is a building named "Marathe Udyog Bhavan" that stands on that road, it would be generally presumed that Appasaheb Marathe must be in some way related to this building. But how many people know today that Marathe Udyog Bhavan is the only building which stands tall on that road for nearly 60 years? In early 1960's, Standard Mills & Marathe Udyog Bhavan were only the two buildings on that stretch of road (in fact the road didn't exist back then). All other structures have either been demolished or newly erected.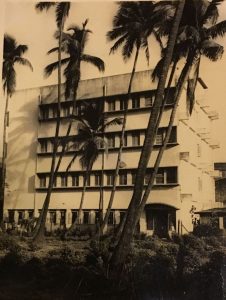 What the road was in the late 1970's and what is today is simply unbelievable. The transformation has been stunning to say the least. I have been the witness to this phenomenon. Last 3 decades have seen the road becoming an Auto Hub of the city with showrooms of Lamborghini, Mercedes Benz, Volvo, MG Hector, Skoda, Volkswagen, Kia, Honda and Tata fighting it out to grab the customer's attention. Similarly there are many super luxury residential towers like Beau Monde, Chaitanya Towers & many others which have changed the skyline of the road completely. 
Hence the question bothering me and my brother Vasant was, are we happy and contended just to say that we are fortunate to be his direct descendants? What will happen, if after few years, Marathe Udyog Bhavan ceases to exist? What kind of information would be available about him? 
Hence we felt that we owe it to him by making open source and independent information available on the internet for all. After a lot of deliberation, we thought that Wikipedia would be the best option possible. We felt that this would be a token of our gratitude as in a way, we would be passing on his inheritance to our next generation. And this had to be done by us. Our future generations will not know all the details even if they ever decide to put it all together. 
The process of uploading a page on Wikipedia is a extremely tedious. Wiki strives to ensure authenticity of the source of information which is very natural and good. But there are many other small hurdles & some preconceived biases, which are quite time consuming & frustrating. Wiki's Hinduphobia is quite evident as they were not ready to accept any information regarding Appasaheb's Karachi affairs and subsequent partition. Though nothing untoward was mentioned, they kept on chopping and deleting. What they kept on insisting were notable (mainstream newspapers, television documentaries, journals etc) references. Whether such things were even existent in 1960's? 
What was painful to note that many lowly actors or actresses have their wiki pages and Wiki has no qualms about it. It was exasperating to say the least and in fact we had given up the idea of Wiki page completely. However some good sense prevailed and they finally accepted the data, albeit lot of personal information chopping. 
The information has at last been uploaded on Wikipedia and the same can be viewed now. 
Tribute to our grandfather, Late Sakharam Purushottam aka Appasaheb Marathe, the first generation entrepreneur. 
@ Yeshwant Marathe
I am joined by my family members Sulabha Marathe, Sunita Kelkar, Vasant Marathe, Smita Patwardhan, Suhas Kelkar and Nitin Kelkar in this endeavour.